Transport Package:
Standard Export Carton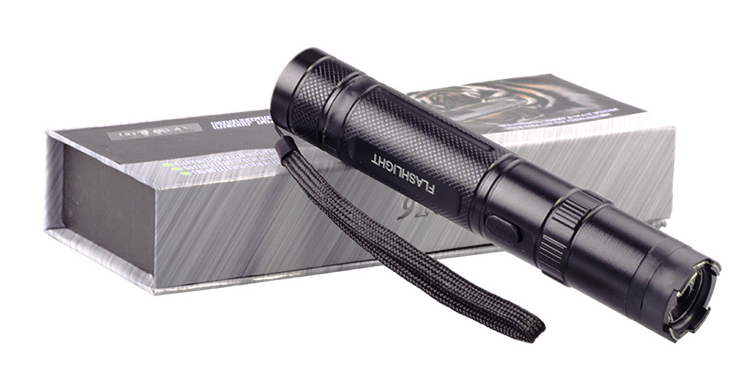 Basic Info
Model NO.: JA-910 Â  Â  Â  Â  Â  Â  Â  Â  Â  Â  Â  Â  Â  Â  Â  Â  Â  Â  Â  Â  Â  Â  Â  Â  Â  Â  Â  Â  Â  Â  Place of Origin: China (Mainland)Â 
Power Source: Rechargeable Battery                                Color: Black
Function: Self Defense, LED Lighting, Electric Shock        Input Voltage: 7.2VDC 
Output Voltage: 3600kv                                                     Current: 2.5A 
Weight: 224g                                                                     Size: 170mmx×Diameter31mm 
Trademark: JA Â  Â  Â  Â  Â  Â  Â  Â  Â  Â  Â  Â  Â  Â  Â  Â  Â  Â  Â  Â  Â  Â  Â  Â  Â  Â  Â  Â  Â  Â  Â  Â  Â  Transport Package: 1PC/Box, 50 Boxes/CTNÂ 
Origin: Jiangsu, China (Mainland)
Product Description
Powerful function:Electric shocking! LED Lighting! Self defense in dark!
Specification
 
1. Source voltage: 7.2VDC
2. Current capacity: ≤1.9A
3. Output pulse voltage: 800kv-3600kv
4. Weight: 224g
5. Size: 170mm×Diameter31mm
Product features
1. JA-910 is a classical flashlight-shaped stun gun, popular among the police, soldiers andCommon citizens around the world. Because it can be used as a flashlight as well as a hidden self defense tool.
2. Ours 1101 has followed the classical appearance, but makes an improvment on the circuit:
(1). Our circuit is sealed in a small epoxy tube, effectively avoiding the damp, shocking.
(2). Our circuit can be adapted as your requirement.
(3). This product can be an ideal present for relatives.
Recharging
1. The rechargeable batteries are already installed. Please do not attempt to open the unit, as this will not work.
2. We recommend charging the stun gun for 6-8 hours before it is used. Simply plug the charging cord into the bottom of the unit and into a standard outlet. 
Using the Flashlight
With the ON/OFF Switch in the ON position, slide the Safety Switch to the middle position and the LED flashlight will come on. Note: the stun gun will not work with the LED flashlight on.
Using the Stun Gun in Self Defense
1. With the ON/OFF Switch in the ON position and the Safety Switch in the top position, touch your assailant's body with the contact probes and press the Stun Activation Button.
2. Touching anywhere on the assailant's body will have an effect. 
Description
JA-910 really packs a punch! Just test firing this unit into the air is often enough to stop an attacker. As the bright electric current pulsates between the test prongs and creats an intimidating electrical sound, an attacker with any sense at all will be stopped in his tracks If the sight and sound doesn't stop him, a jolt from this stun gun certainly will bring an attacker down! When an attacker is touched by the stun gun it will disrupt the message the barin sends to the voluntary muscles. Simply touching an attacker will deliver a high voltage shock causing loss of balance and muscle control, confusion, and disorientation bringing him to his knees and making him incapable of further aggressive activity. Due to restrictions in some countries and regions, the customer is responsible for proper use, storge and knowledge of local laws and regulations regarding ownership and usage of this product.
 
Tianrui Fiberglass Composites Co., Ltd. , http://www.sdfiberglassmesh.com